Events With, About, In Proximity To, And/Or Celebrating Calgary Beer
BEER RELATED CALGARY EVENTS
Explore some of the best events from around the city from our partners and friends.
Kickin' it Old Skool with SASCA!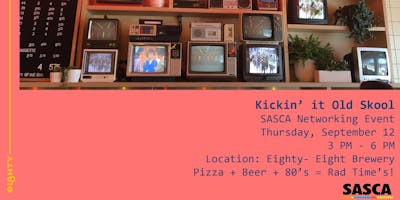 We're kickin' it old skool at the coolest brewery in town, Eighty-Eight Brewery Co. We will be jammin' out to some 80's tunes, tasting some fine local Brews and munchin' on Noble Pie's famous pizza. If you're not a beer drinker, don't fret, they are also serving cider, ginger beer, Nitro Hibiscus Tea, and Shandies!
Let's get nostalgic together!
Ticket Includes: Drinks (two tickets), pizza & snacks, Brewery Tours, and a whole lotta fun!
Location: Eighty-Eight Brewery in Ramsey. *ample parking available!
They play on the year of the 1988 Olympics, big hair and fun music! https://www.eightyeightbrewing.ca/




Thursday, September 12, 2019
15:00 to 18:00
Venue: Eighty-Eight Brewery Co. Buy Tickets Here
More...