Events With, About, In Proximity To, And/Or Celebrating Calgary Beer
BEER RELATED CALGARY EVENTS
Explore some of the best events from around the city from our partners and friends.
Camera Basics and Beers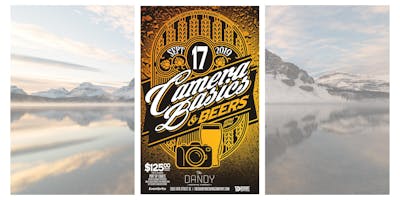 This workshop is for anyone who would like to gain more creative control over their camera and photography. Getting out of manual mode seems like it involves a lot of time to figure out and many buttons to maneuver through. In this workshop we'll find all the need to know settings and get you familiar with what you have to do on your own camera. Once you have the basics down, you have the tools to control how you want to capture a subject.

The session will begin with a talk about the topics listed below. After the talk and a group Q&A session, the instructor will go around to ensure everyone has a handle on their own camera. We will also have access to the brewery section to take photos and practice what was covered during the talk.

Included in your registration is a pint of choice or if you prefer, a non alcohol beverage, and a selection of fine dining drinking food off Dandy's exquisite menu*.

*If you have any dietary requests or restrictions that we should know about, please ensure you register and inform us by Sept 9th, 2019.

Topics Covered:

Camera Set Up & Use:

Shooting modes
ISO, Aperture, Shutter Speed
White balance
Metering
Exposure Compensation
Manual Focusing
Focusing modes
File sizes/types

How to Create Great Images:

Composition
Exposure
Planning
The guidelines


What to bring:

DLSR or Mirrorless camera
Any lenses you would like to use
The camera manual (just in case)
Notebook
Tripod (optional)
Remote Trigger or Intervalometer (optional)

Testimonial:
'Deviant Optiks' .u2018Camera Basics' was a great introduction to camera settings and elements of photography. Monika provided a comprehensive overview of everything needed to get out of automatic mode and start taking more intentional photos. I appreciated how much time was set aside to play around with our cameras; this reinforced what we learned, and also gave time to ask specific questions. The small class size allowed for lots of individual support and Monika's help made the photography process feel more intuitive. The location, [ A Brewery], was a great venue to practice with different lighting and even dynamic shots, as we were allowed to wander throughout the brewery. Deviant Optik's workshop was a fantastic beginner's course.'
Kristina Wasyleczko Calgary, Alberta
Tuesday, September 17, 2019
18:00 to 21:00
Venue: The Dandy Brewing Company And Tasting Room Buy Tickets Here
More...