Events With, About, In Proximity To, And/Or Celebrating Calgary Beer
BEER RELATED CALGARY EVENTS
Explore some of the best events from around the city from our partners and friends.
CROWN COMEDY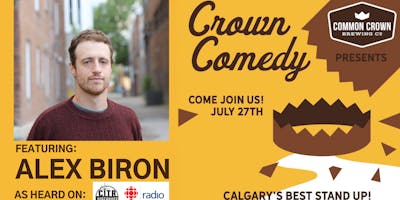 Crown Comedy is about two things: great Craft beer, and the best standup comedy Calgary has to offer. Interested in a complimentary beer tasting and brewery tour that takes place right before the show? Email crowncomedycontact@gmail.com (Limited spots! First come first serve) Featuring: ALEX BIRON Originally from Vancouver, Alex Biron has developed a reputation as one of Alberta's most exciting comics. His lightning quick crowd work skills make every set different, and audiences can expect to be pulled into his stories and become a part of the show! Alex's storytelling skills were honed on CITR radio (the home of Canadian legend Nardwuar the Human Serviette) until he and his cohost were promptly canceled for breaking every CRTC rule in the book. You may have even heard him on CBC Radio One! You can catch Alex at the best shows in town, including Broken City on August 19th, as part of Comedy Monday Night's Bright Lights Showcase!
Saturday, July 27, 2019
19:00 to 22:00
Venue: Common Crown Brewing Co. Buy Tickets Here
More...