Events With, About, In Proximity To, And/Or Celebrating Calgary Beer
BEER RELATED CALGARY EVENTS
Explore some of the best events from around the city from our partners and friends.
Brewery Tour and Tasting with the Brewmaster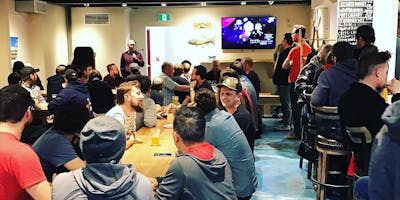 Join our Founder and Brewmaster Ian Binmore for an in-depth tour and tasting. Start with a guided tasting of all our delicious beers and then go on an in-depth tour. Ian will guide you through the process of brewing beer as well as the techniques and advanced equipment in our brewhouse. This is the tour for anyone interested in learning more about beer and the brewing process. With 30 years' experience brewing beer and a vast knowledge of brewery design, construction and planning, Ian will field all the questions you have. At the end of the tour take home a Bow River Brewing 16oz glass.
Thinking to combine this tour with dinner? Enjoy your tasting flight with an Italian Deli Sandwich from our cooler or have some food delivered to the brewery. Your dinner is not part of the tour and tasting price.
Thursday, July 11, 2019
18:00 to 19:30
Venue: Bow River Brewing Buy Tickets Here
More...