Events With, About, In Proximity To, And/Or Celebrating Calgary Beer
BEER RELATED CALGARY EVENTS
Explore some of the best events from around the city from our partners and friends.
A Close Shave for Cancer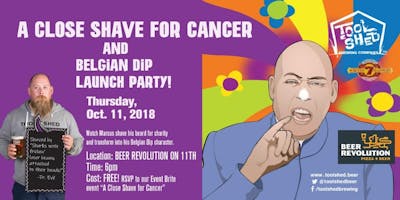 We are bringing back Belgian Dip for yet another season and raising funds for cancer at the same time.
Marcus will shave his beard that he has been growing for several years, thereby transforming himself back to the face of Belgian Dip. Join us for an evening of good drinks, good nibbles, good times, and a good cause. We will also have a silent auction filled with amazing items, PLUS, a cask will be present to start the night off.
Click on the link below today to help us raise funds for the Alberta Cancer Foundation and from all of us here at Tool Shed Brewing and Beer Revolution, we thank you!!
https://albertacancer.ca/page.aspx?pid=770&tab=0&frsid=23939

Thursday, October 11, 2018
18:00 to 22:00
Venue: Beer Revolution Buy Tickets Here
More...