Events With, About, In Proximity To, And/Or Celebrating Calgary Beer
BEER RELATED CALGARY EVENTS
Explore some of the best events from around the city from our partners and friends.
DEAM Dinner with Panel Discussion and Networking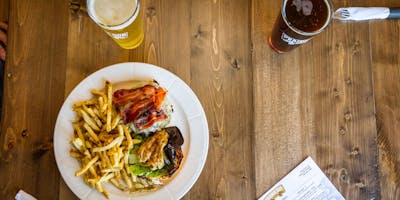 October is Disability Awareness Month.
This .u2018after work event' is built around informal networking, and a facilitated, interactive Panel Discussion with inclusion experts, employers and employees with disabilities. Your ticket gets you in to experience all this as well as a BBQ buffet dinner. Prairie Dog Brewing has a variety of beverage options (cash bar) including craft beer brewed in-house, a carefully curated craft beer menu, wines, cocktails and non-alcoholic drinks.
The objective of a diverse workforce is to leverage different perspectives and problem solving capabilities within our organizations. However, when diversity exists without inclusion, human capital is almost certain to underperform. Bring your colleagues and your questions. Join us as we identify the practices that enhance (and inhibit) inclusion at work.
Speaker List:
Opening remarks from Geoff Person - Director - Marketing & Communications at CPHR Alberta (Chartered Professionals in Human Resources)

Panel Members:

Graham Canvin - Director-Global Facilities at Nutrien

Nikki King - Plant Manager and Diversity and Inclusion Coordinator for Iron Mountain

Doug McFee - Human Resources Generalist at Jepson Petroleum Ltd.

Sean McEwen - Director of CAES (Calgary Alternative Employment Services) and CEFN (Calgary Employment First Network) Member

Agenda


4:00 pm to 5:00 pm .u2013 Registration & Buffet Dinner


5:00 pm to 6:30 pm .u2013 Opening remarks from Geoff Person (CPHR) and Panel Presentation


6:30 pm to 7:00 pm .u2013 Q&A and casual networking


Thursday, October 18, 2018
16:00 to 19:00
Venue: Prairie Dog Brewing Buy Tickets Here
More...