Events With, About, In Proximity To, And/Or Celebrating Calgary Beer
BEER RELATED CALGARY EVENTS
Explore some of the best events from around the city from our partners and friends.
Village Brewery Dinner - October 30, 2018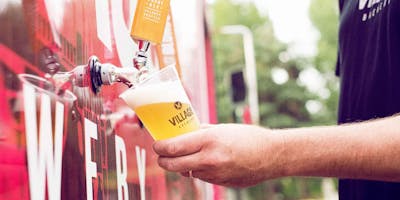 FOUR BEERS FROM VILLAGE FOUR PAIRED COURSES BY CILANTRO
We are excited to welcome Mike Garth, Sales & Community Manager for Village Brewery on Tuesday, October 30, 2018 for a Village Beer pairing dinner at Cilantro.
The evening will start with a custom Cilantro brew, created by talented brewmakers at Village, followed by a four course dinner prepared by Chef Lance Monteiro and his culinary team at Cilantro. Each of the courses will be paired with one of Village's outstanding craft beers.
To complement the evening, guests will be able to enjoy the newly updated floor space, d.u00e9cor and atmosphere from Cilantro's recent renovations in January 2018. There are only 38 tickets available for the engaging evening of food and libations.
Where: Cilantro, 338 17 Avenue SWWhen: Tuesday, October 30 2018 at 6:30 p.m.Dinner: Four course dinner paired with Village Craft BeersHosts: Brad Royale, CRMR Wine Director & Mike Garth, Sales & Community Manager, Village BreweryTickets: $85 per person (includes tax and gratuity)

FAQS
Tickets are non-refundable. You may transfer your ticket to another person. Please email us in advance to arrange this at pauline@crmr.com.
Complimentary parking is available in Cilantro's back parking lot. Please register your plate with hostess upon arrival to Cilantro to avoid being ticketed.
ABOUT VILLAGE BREWERY:
Some of the best things happen over beer. Ideas are born, friendships forged, deals struck, communities built. That's how Village Brewery began, friends sharing beers and dreams. Around the table, we had close to a century and a half of brewing experience. One of us was a legendary Canadian brewmaster. Naturally the talk turned to the art and craft of better beer, then to secret sources of malts and hops. By last call we had dreamed up a true community brewery. A brewery that would support Calgary's artists and craftspeople. A brewery that would create the excellent ales and lagers our friends and neighbors deserve. That talk over beer started the brewery that handcrafted the fine brew you hold in your hand. Please join our table, lift a pint and salute the Village of Calgary. It takes a Village to raise a beer. And a beer to raise a Village.
Learn more aboout Village Brewery's beers and more about their story here in our Calgary community.



Tuesday, October 30, 2018
18:30 to 21:30
Venue: Cilantro Buy Tickets Here
More...