Events With, About, In Proximity To, And/Or Celebrating Calgary Beer
BEER RELATED CALGARY EVENTS
Explore some of the best events from around the city from our partners and friends.
DOG SEES GOD: CONFESSIONS OF A TEENAGE BLOCKHEAD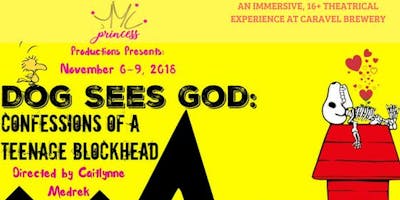 YYC PRINCESS PRODUCTIONS PRESENTS:

DOG SEES GOD: CONFESSIONS OF A TEENAGE BLOCKHEAD.
An immersive 16+ theatrical experiance at CARAVEL CRAFT BREWERY.
Dog Sees God: Confessions of a Teenage Blockhead is a play written by Bert V. Royal.
An 'unauthorized parody,' the play reimagines characters from the popular comic strip Peanuts as degenerate teenagers. Drug use, child sexual abuse, suicide, eating disorders, teen violence, rebellion, sexual relations and identity are among the issues covered in this parody of the works of Charles M. Schulz. The show cleverly disguises the identity of each character, so that the issues of the play draw more focus than attempting to guess 'who's who'. However, the use of these famous characters is what gives the show its emotional punch: even these beloved child characters must some day grow up and deal with a harsh reality as they find their place in the world.
DIRECTED BY CAITLYNNE MEDREK Produced by CAITLYNNE MEDREK AND SARA CASTON.
STARRING:
RYAN GRAY as CBASHLEY SOLES as CB'S SISTER MARK FRASER as VAN MIRA HILLS as VAN'S SISTERRYAN DICKINSON as BEETHOVAN SARAH ORD as TRICIA VICTORIA HUTTON as MARCYtbd as MATT
***PLEASE BE AWARE THIS PLAY DEALS WITH HEAVY AND TRIGGERING CONTENT SUCH AS LGBTQ RIGHTS, SUICIDE, EATING DISORERS AND TEEN PREGNANCY. ***

Support local theatre! Support local business, and enjoy an immersive theatre experiance in the heart of a brewery, while induldging in some of the best craft beer the city has to offer!

This is one you wont want to miss!
Tuesday, November 6, 2018
20:00 to 22:00
Venue: Caravel Craft Brewery Buy Tickets Here
More...